Optical coherence tomography (OCT) is the latest imaging technique that produces high resolution cross sectional images of the retina and helps in the diagnosis, treatment-planning and response to treatment of RETINA conditions like diabetic macular edema, Age Related Macular Degeneration (wet or dry), Juxta-foveal telengiectasia, Macular edema due to CRVO/BRVO, CSR and many others. OCT has revolutionized the study and treatment of macular diseases and is now the backbone of their management.
Additionally it is a very useful & indispensable tool for the early diagnosis of glaucoma.
We at Mansarovar have been using this machine since 2007.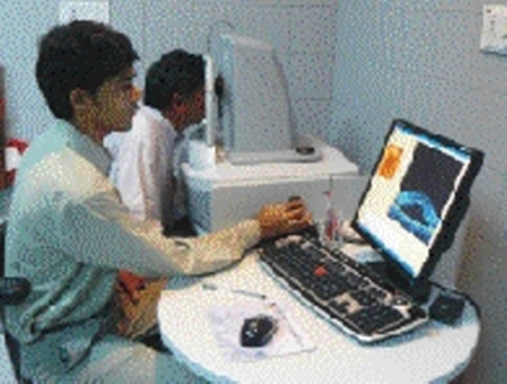 High-resolution spectral domain-OCT
The latest version of OCT installed in our hospital is 3-LASER based High-resolution spectral domain-OCT with multi-modal capability. This means that the same machine can perform different examinations like auto-fluorescence, non dye-based and dye-based angiography to provide more information about the patient's eye disease than any ordinary machine.
Higher resolution imaging also enables detection of vitreo-macular traction or fine epi-retinal membranes on the retina surface. In cases of lamellar macular hole, small opercula over the hole and many other abnormalities that could not be 'seen' by the conventional OCT become visible thus changing the line of management completely.
A FEW EXAMPLES ARE SHOWN BELOW: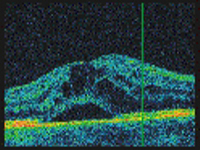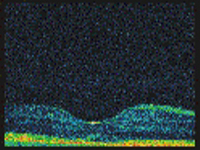 PRE AND POST TREATMENT SEROUS NEURO-SENSORY RD IN A CASE OF SEVERE DIABETIC MACULAR EDEMA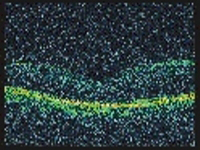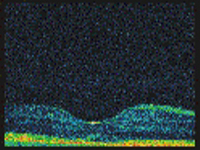 PRE AND POST-OP MACULAR HOLE SHOWING COMPLETE CLOSURE AFTER MACULAR HOLE SURGERY WITH I.L.M. PEELING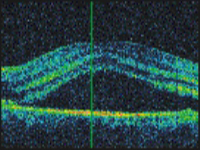 SEROUS RETINAL DETACHMENT IN C.S.R.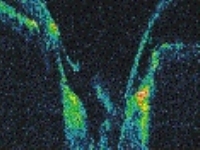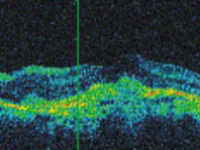 OPTIC PIT A RARE CONDITION LARGE CHOROIDAL NEO-VASCULAR MEMBRANE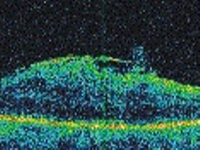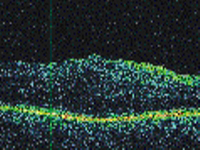 PRE-OP & POST-OP EPI-RETINAL MEMBRANE IN DIABETIC RETINOPATHY SHOWING THE AREA OF CLEAVAGE – HELPFUL IN PLANNING THE SURGERY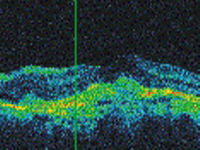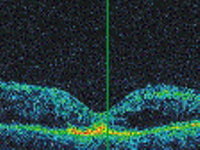 PRE AND POST-TREATMENT MASSIVE MACULAR EDEMA IN CENTRAL RETINAL VEIN OCCLUSION
OCT IS USEFUL FOR THE FOLLOWING:
High Resolution 3D- OCT FOR DIAGNOSIS
OCT guided intra-vitreal injections of triamcinalone/anti-VEG-F
Planning of various operations like Macular hole surgery, Epi-retinal membrane /macular pucker surgery,Vitreo-macular traction (VMT) surgery in diabetics, Combined cataract plus above procedures,Vitrectomy for diabetic vitreous hemorrhage or traction retina detachments
Assesment of response to treatment